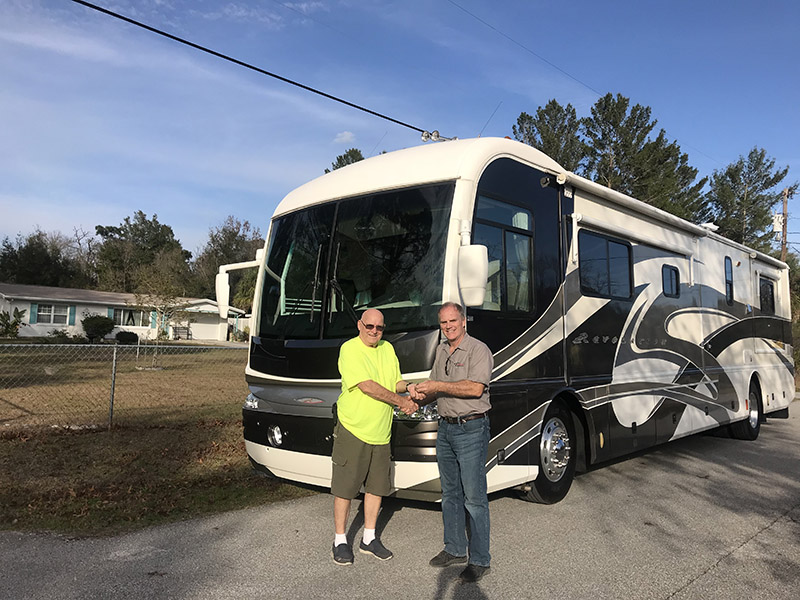 Jim's Dream RV Comes True
The day Jim H. visited Florida RV Sales & Service, was the day his new journey in life began.
At age 77, with absolutely no experience driving a class A RV, Jim was determined to buy the diesel motor coach of his dreams.  He was ready to hit the road driving his new coach into his golden retirement years.
A little background is necessary. Jim lost his house to Hurricane Michael. Rather than rebuild, he decided to purchase a class A motor home with his insurance money so that he could visit his children and grand children in various parts of the US.
In January of 2019, Jim purchased his Fleetwood Revolution from owner Hartley MacDonald at Florida RV Sales & Service in Mulberry, Fl., along with the assistance of Ryan Moore.
The service manger Don completed a pre delivery inspection to ensure it was in tip top condition before the delivery day.
Jim is delighted with his new purchase, thanks to all the team at Florida RV Sales & Service.
Since Jim had never driven a Class A motor home and did not feel comfortable picking it up and driving it home through heavy traffic, Hartley and Diane delivered the RV to his sister's home in Hudson, Florida.
After about 30 minutes of driving lessons, Jim showed his true skill at driving his new motor home and was signed off as ready to begin his new adventures.
Jim's story inspired us to start this website page. We will be adding other buyer's stories that may inspire potential buyers to realize it is never to late to follow your dreams.