About Us
Our Story:
My wife Diane and I did not start out to become RV dealers. Like many great business ideas, we sort of fell into it! It started out with a need…a need to get our race car team and equipment to the race track.  We began our quest for the perfect RV after joining the Sports Club Car of America (SCCA). I began networking with fellow racers on social media blogs. The question I asked was: "What is the best, most efficient and comfortable way to get our race trailer along with the race car and equipment to the race track? The unanimous answer was "A class A diesel pusher motor coach."  So after researching, we purchased an old 96 Monaco Diplomat with a Cummins diesel engine and no slides. We hit the road soon after to begin our RV adventures.
This old diesel pusher was an instant success! We quickly followed up this purchase with a newer coach with slides. Of course, the engineer in me could not stand the defects, so I began making needed repairs including any mechanical defects and Diane tackled cleaning, detailing and decorating the interior. Soon afterwards we would upgrade into something newer. As soon as the coach was perfect, of course, we would sell it and buy another. We had many people approach us unsolicited to buy the RV's.
It never occurred to us even after buying and selling a half dozen coaches, that we might do this as a business. We were just having fun transforming these coaches to look and run better than what they were when we purchased them.
Some background is necessary here….Diane and I just retired from our primary careers. My career spanned 20 years as a licensed marine engineer. I worked on ships and large yachts all over the world. I am a certified mechanical engineer on Caterpillars, Cummins and MTU diesel engines.
Diane had a long career as a real estate broker, having owned her own real estate company, specializing in luxury oceanfront houses. Our backgrounds are a perfect fit for the RV business. Diane has a keen eye spotting well loved motor coaches and bringing the best out of them and overseeing the cleaning, detailing and decoration.  So it was inevitable that we would turn our passion for RV's into a successful business.
We love the RV lifestyle! We live it everyday and spend at least two weekends per month either at the racetrack or in a great local campground in one of our RV's.  We both love the comfort and luxurious living experience while traveling in a Class A diesel motor coach.
As a married couple and business partners, Diane and I feel like we won the lottery! We are working together in a business that we both love and feel it suits each of our unique skill sets.  In December of 2017, we moved our RV business from Fort Lauderdale to Mulberry, Florida. We purchased a 12,000 sq ft building and hired a skilled service team.
We are now a full service RV business and have a 5 star rating with many of our customers.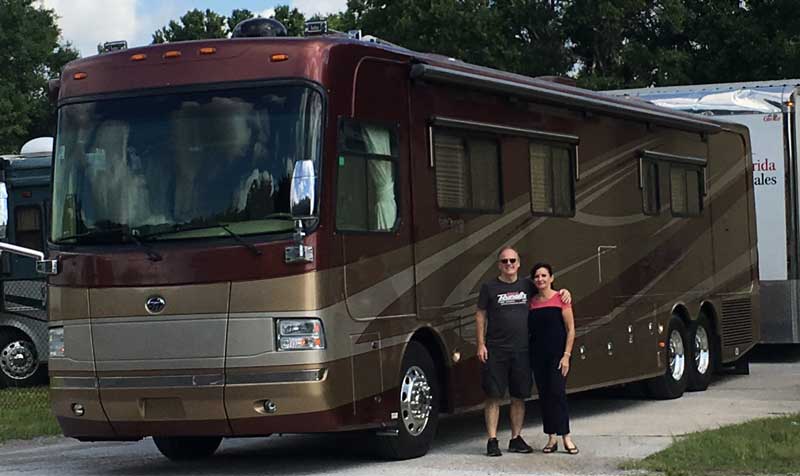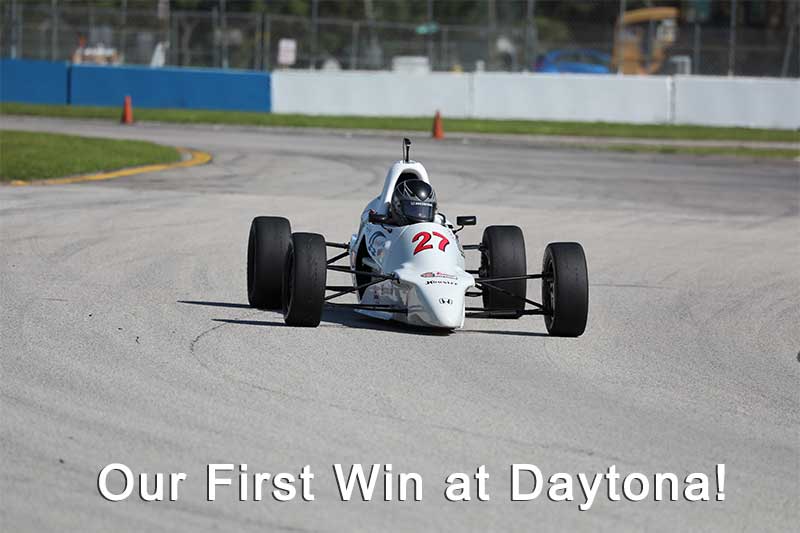 Racing with The Florida RV Sales Team
Experience All the FUN & Excitement

We bought a new race car,  a USF2000 formula car
…and another big WIN at Sebring RaceTrack in Florida on January 12, 2020!
Hartley MacDonald now has 2 wins at Sebring. He's got RACING in his blood!
Winner of the Sebring Race - January 12, 2020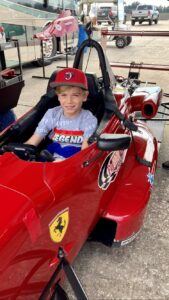 A Young Fan of Hartley MacDonald enjoys a few moments in the Winning Car!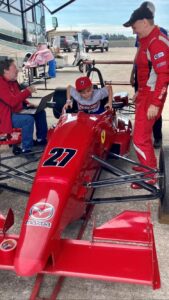 November 28, 2021
Excitement at Sebring Racetrack as Hartley MacDonald and his team come in FIRST PLACE!